2 years ago
S1E6 - Episode 6: Memory Card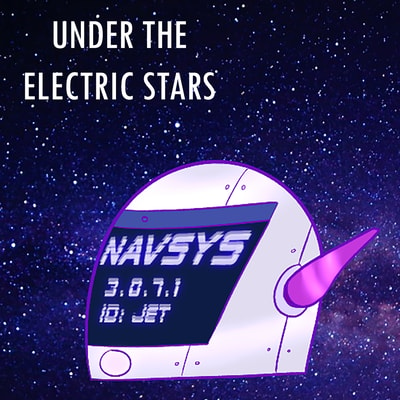 The Reyes family has been gone for years: cold, dead, and as distant as the stars. Caine has never really learned how to stop missing what they've had to leave in the past. But now the circuits spark to life. The once dark screen of Arcadia illuminates again. And Caine has to face their memories before time runs out. Featuring a serious take on that outdated VR joke, ghosts in the machine, and sci-fi superstitions.
Trigger warnings: Talk of death/family death, yelling, verbal abuse, loud sounds, physical violence, unreality (audio glitches).
Find us on our website at undertheelectricstars.com! Transcripts are available on our website. Support us on Patreon ➠ patreon.com/mxeliramos Follow us on social media! Twitter ➠ twitter.com/utes_podcast Tumblr ➠ undertheelectricstarspodcast.tumblr.com
Team Rhea Anne as Caine Reyes Rey Vargas as Maricel Reyes John Patneaude as Sebastian Reyes Dominique Valencia as Valeria Reyes Christine Kim as Su-jin Yi Kevin Paculan as Benjie Reyes David McGuff as Dax Pastore Rey Ángel as Client 912
Additional voices were provided by Eli Ramos, Robin Guzman, and Erik May.
Thanks to Lucas Galante, Ezra Buck, Christine, Jordan Davis, Fran Carr, and Ferris, our patrons for Aster Podcasting Network. (patreon.com/mxeliramos)
Attributions for sound effects "Riverline" by Tri-Tachyon: https://freesound.org/people/Ellary/sounds/443270/ "Footsteps, Concrete A.wav" by InspectorJ of Freesound.org: freesound.org/people/InspectorJ/sounds/336598/ "Seatbelt In, A.wav" by InspectorJ of Freesound.org: https://freesound.org/people/InspectorJ/sounds/318679/ Tearing, Newspaper, C.wav by InspectorJ of Freesound.org: https://freesound.org/people/InspectorJ/sounds/415765/ "Dark cave drone" by Kinoton: https://freesound.org/people/Kinoton/sounds/421826/