4 months ago
UTES Interstitial: Lola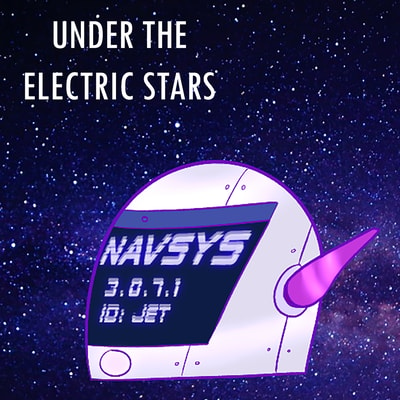 Years in the past... Lola Sunn is gearing up for what's supposed to be the biggest presentation of her life. She's top of her class in the Prodigy program, the favorite of her director, and widely popular with her cohort. She's a woman who needs no introduction for the meteoric rise that she's had. But underneath everything, who really is the woman they call Lola Sunn? Featuring seaweed chips, "gal pals", and estranged family relationships.
Trigger warnings: Light medical talk around prosthetics, ableism, gaslighting, alcohol, a loud crashing sound (31:49), yelling.
Find us on our website at undertheelectricstars.com! Transcripts are available on our website.
Follow us on social media! Twitter ➠ twitter.com/utes_podcast Tumblr ➠ undertheelectricstarspodcast.tumblr.com
Team Special thanks to Chaitrika Budamagunta and Anjali Kunapaneni for help with Telugu Chaitrika Budamagunta as Lola Sunn Stephanie Arata as Elizabeth Haven Shivani Ishwar as Sneha Suravaram Seshu Kavuri as Mohan Suravaram Vinay P. Nariani as Director Linwood Jenny Pan, Michelle Kelly, Bex Brzotoski as Cohort Members Katriel Rose and Philomena Sherwood as Investors
Thanks to Lucas, Ferris, Fran Carr, Ezra Lee Buck, Mildred Ramos, Chris Magilton, Audrey Pham, Yansa, Joshua Hazeghazam, and Eliseo Ramos, our patrons for Under the Electric Stars. (patreon.com/mxeliramos)
Attributions for sound effects and music Sound effects from Freesound "iPhone_Texting.wav" by MATRIXXX_ (https://freesound.org/people/MATRIXXX_/sounds/506962/)
Sound effects from Zapsplat.com Doorbell chime, ring 1 Science fiction door slide open 3 Single footstep, gentle, high heel on wooden floor 1 - 8 Science fiction door code accept 2 Cutlery pick up from tiled table, clatter 4 Person eating toast, crunch and chew Bowl with single cutlery item in down on table Food, cereal in a bowl with milk, single scoop with spoon 1 Science fiction computer console, alarm, reminder 2 Small jewelry box lid closing 1 Hanging chains jingle, movement Grocery store – 1970s check out, registers, shopping carts, light voices, ambience Modern supermarket cash register, self service scanner beep. Version 3 Empty beer bottle place into plastic bag 4 Empty beer bottles in plastic bag movement, clink, rustle 2 Door, store, open Door, store, close Party horn blow, paper tube roll out 4 Party horn blow, paper tube roll out 2 Party horn blow, paper tube roll out 10 Champagne bottle cork pop open and drink poured into glass Can of soda, open, ring pull Bar/pub (small) ambience – busy with people talking and laughing 1 Bar/pub (small) ambience – busy with people talking and laughing 2 Chair sofa person sit down soft cushioned Cheap sliding door slide open or close 2 Cheap sliding door slide open or close 4 Office environment, ambience, busy, USA Theatre audience chatter, during intermission Kinoton Room Tone Soft Ventilation Crowd applause at professional snooker match 2 Fast whoosh or swipe into glass smash. Version 1 Large crowd gasp Science fiction nano machine, operation burst, click and hiss Large metal refrigerator door open 1 Door, Slam, Big Stairway, Lush Reverb Impact, metal rod hit metal door 1 Closed wooden garage door bash, impact, rattle 1 Closed wooden garage door bash, impact, rattle 2 Closed wooden garage door bash, impact, rattle 4 Single footstep, gentle, high heel on concrete, pavement 1 Single footstep, gentle, high heel on concrete, pavement 3 Single footstep, gentle, high heel on concrete, pavement 4 Single footstep, gentle, high heel on concrete, pavement 1 Single footstep, gentle, high heel on concrete, pavement 10 Single footstep, gentle, high heel on concrete, pavement 11 Single footstep, gentle, high heel on concrete, pavement 12 Computer room ambience, hum and airy noise of computers running and air conditioning unit Cyberpunk electronic equipment beep, ascend, power sound 3 Cute sci-fi cyberpunk robot beep 3 Game sound, science fiction style beep, action tone 3 Metal crowbar impact, hit car glass Electricity crackle sound, high voltage Electromagnetic, glitch, cellular, Motorola Moto G 1st gen, turn on, wifi traffic, calling, turn off Clothes throw into suitcase. Version 2 Bag Backpack full handling Bag, full backpack or rucksack handling 3 -- Music Growing Up by Scott Buckley | https://www.scottbuckley.com.au/library/growing-up/ Silent Turmoil by Myuu | https://soundcloud.com/myuu Music promoted by https://www.free-stock-music.com Creative Commons Attribution 3.0 Unported License https://creativecommons.org/licenses/by/3.0/deed.en_US Grace by Hayden Folker | https://soundcloud.com/hayden-folker Music promoted by https://www.free-stock-music.com Creative Commons Attribution 3.0 Unported License https://creativecommons.org/licenses/by/3.0/deed.en_US Herle Hæmle'heje Vi Haij (Lovely Secrets We Had) by So I'm An Islander | https://soimanislander.bandcamp.com Music promoted by https://www.free-stock-music.com Creative Commons Attribution-ShareAlike 3.0 Unported https://creativecommons.org/licenses/by-sa/3.0/deed.en_US Descent by Scott Buckley | https://www.scottbuckley.com.au/library/descent/ Vengeance by Scott Buckley | https://www.scottbuckley.com.au/library/vengeance/ Computations in a Snowstorm by Scott Buckley | https://scottbuckley.com.au/library/computations/ Signal to Noise by Scott Buckley | https://www.scottbuckley.com.au/library/signal-to-noise/
Monomyth - The Vision by Scott Buckley | https://www.scottbuckley.com.au/library/the-vision/