1 year ago
S2E2 - Episode 2: Turning Point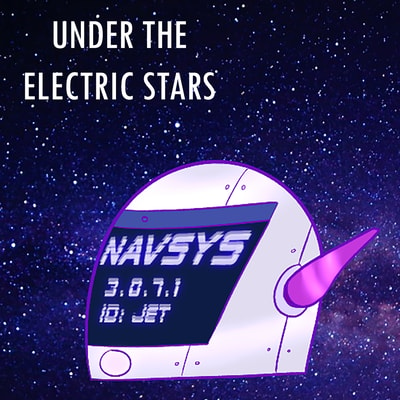 The journey's been unbearably long (for a number of reasons), but Zero Zero pushes ever onwards towards their goal. The night glitters dangerously and not just with lights--dangers still await them as they draw closer to their destination, for the road is not as empty as it seems. Featuring the greatest band that never was, skeptics of blurry pics, and a reappearance that might change everything. Trigger warnings: Loud sounds, fire, cars and truck honking.
Find us on our website at undertheelectricstars.com! Transcripts are available on our website. Support us on Patreon ➠ patreon.com/mxeliramos Follow us on social media! Twitter ➠ twitter.com/utes_podcast Tumblr ➠ undertheelectricstarspodcast.tumblr.com
Team Rhea Anne as Caine Reyes Rey Ángel Yoáli Olachea Martinez as Indra Kevin Paculan as Vic Vass Christine Kim as Su-jin Yi Robin Guzman as Jet Chaitrika Budamagunta as Lola Sunn Rue Dickey as Ganymede Moreno Philomena Sherwood as Tari de Whitte Katriel Rose as Nell Palomo Setaareh Nikbin as Niusha Serena El-Hajali as Ava Jafari Matheus Nogueira as Kaleo Hale John Patneaude as Sebastian Reyes.
Thanks to Lucas, Ferris, Fran Carr, Ezra Lee Buck, Mildred Ramos, Chris Magilton, Audrey Pham, Joshua Hazeghazam, Cole Gordon, Seth Timple, Calliope Monroe, Aidan Bainso, Inigo Sherwani, Heather Granger, Psy13, and Kyla Worrell, our patrons for Under the Electric Stars. (patreon.com/mxeliramos)
Attributions for sound effects and music Music Purple Light is Fading by MokuseinoMaguro from Pixabay Robots Talk After All by astrofreq from Pixabay Accelerator by Yoshinori Tanaka | https://soundcloud.com/yoshinori-tanaka-guitar Music promoted by https://www.free-stock-music.com Attribution 4.0 International (CC BY 4.0) https://creativecommons.org/licenses/by/4.0/ Pixabay 1 min Piano Arp by DeepMusicEveryDay from Pixabay Way Between the Shadows by MokuseinoMaguro from Pixabay Great Guitar Piece by Palle1958 from Pixabay Riverline by Tri-Tachyon https://soundcloud.com/tri-tachyon
From freesound.org "Truck engine running under.wav" by aburrman (https://freesound.org/people/abuurman/sounds/130015/) "Electro Coil Diaries vol.1 » Electric Crackle Ticking" by Headphaze (https://freesound.org/people/Headphaze/sounds/158706/) "car windows roll up" by scriotxstudios (https://freesound.org/people/scriotxstudios/sounds/354002/) "Vehicles » cars in motion passby gas engine truck medium speed mono NTG3.wav" by Soundholder (https://freesound.org/people/Soundholder/sounds/425526/) "Car Ignition" by iainmccurdy (https://freesound.org/people/iainmccurdy/sounds/433772/) "Footsteps, Concrete A.wav" by InspectorJ of Freesound.org (freesound.org/people/InspectorJ/sounds/336598/)
From Zapsplat.com Knife, dagger blade draw, pull from sheath 4 Kitchen knife slide, place into plastic protective sheath 2 Fire, small wood, with roar, hiss and crackle Large fire burning Aston Martin Rapide Car, engine start, drive away Chevy Stepside pick up truck, 1973, engine start, rev then off, grill perspective Garbage truck arrive, mechanical arm empty dustbin, then drive away Fireball pass by 2 Fireball whoosh, pass by, crackle Robot power up, initiate, ascend Medium fireball, close Fire, flames, small, from gas, air or wind blow, movement, rage 3 Opening the hatch of a small tank. Game sound, futuristic science fiction style beep, positive tone 1 Sitting down on sofa, spring noise 2 Science fiction blaster gun, charge then shoot, dull, fire blank 2 Footsteps, shoes, jump and land on metal floor, platform Boys sneaker, single footstep on concrete 1 - 6 Single footstep, boot, soft and gentle on concrete 1 - 7 Blustery wind recorded from slightly open window (internal recording), palm trees rub against window and house, air con whir from across the road. Version 2 Fireball pass by 1 Plastic halloween mask handling 2 Chair sofa person sit down soft cushioned Sitting down on sofa, spring noise 1 Game tone, toggle or scroll, plucked 2 Science fiction computer console or control panel beep tone 1 Dark atmosphere, horror, sinister drone good for creating a sense of fear 7 Car, Nissan Patrol 1998, diesel, engine turn on, idle, rev then off, recorded at front, external Boots Lino Run Glass cupboard door close Glass microwave oven door close Glass microwave oven door open Designed cinematic hit, dark, soft and airy with an ominous delayed buzz Science fiction, spacecraft door open with air release Science fiction, spacecraft door close Designed drone, low-mid frequencies, constant Empty warehouse atmosphere, distant fans, drone, reverberant